In the beginning of 2022, the Connecticut Noyce Math Teacher Leaders (MTL) Program welcomed a cohort of veteran mathematics educators from across the state.
Funded by the National Science Foundation and private donors, the MTL Program engages these teachers from numerous Alliance Districts in a five-year professional learning and service program.
We asked our Fellows to share with us a little bit about themselves, what they love most about teaching math at their school, and what drew them to the Connecticut Noyce MTL Program.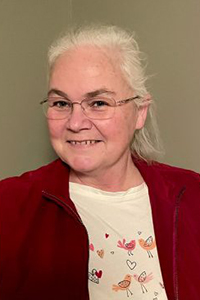 Kari Baransky
Edison Middle School, Meriden, Connecticut
I have been teaching in the Meriden School District for over 20 years, currently at Edison Middle School, home of the Eagles. I am also the Mathematics Subject Area Specialist and the advisor for the Student Council and Yearbook Clubs. I enjoy teaching math using scavenger hunts and escape room-style activities.
I love teaching in Meriden where every day is a new and exciting adventure. Being a part of opening a new middle school has been a wonderful opportunity.
I hope to learn new ways of reaching students and gain a better understanding of how to make the biggest impact upon all of my students as well as be able to share information with my peers.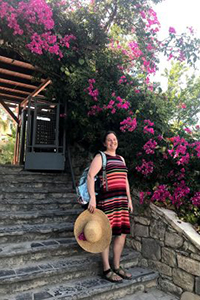 Sara Cole
Conte West Hills Magnet School, New Haven, Connecticut
I was born and raised in New Haven, and I was a student in the school where I am now a teacher. After college I spent the first decade of my professional life as a professional mariner and educator on sail training ships and floating classrooms before I decided to enter the classroom. I got my master's degree in mathematics education from Harvard, and I've been teaching seventh and eighth grade math at Conte for eight years. Some of the highlights of my teaching career have included winning a Fund for Teachers grant to travel to Crete to study the ruins of the Minoan civilization with my friend and colleague Theodora Dogani, and working with our Math Counts team at Conte.
I love seeing my students become confident in their skills and abilities as they learn and grow in my class. I love seeing how proud they are when they can tackle a problem or task that used to be too difficult or too intimidating. 
I was drawn to the Noyce program because it presents a unique opportunity to work with a group of experienced, thoughtful, and capable teachers who are all teaching math in a district similar to mine and in a grade-level similar to mine. I hope to improve my own teaching practice through collaboration and reflection with this group of teachers.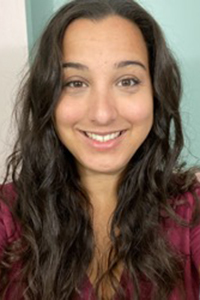 Jenn Downes
Manchester High School, Manchester, Connecticut
I teach math at Manchester High School (MHS) in Manchester, Connecticut. This is my 13th year teaching. I have been a host to student teachers and I am the Geometry PLC leader. In conversation, I constantly reference "my kids," which could mean my three biological children or my nonbiological children at MHS.
I love teaching in an Alliance District because I enjoy building relationships with students, as well as learning about their lives, interests, hopes, and dreams. I feel fortunate to work in such a diverse environment and I couldn't picture myself working anywhere else. 
I was immediately drawn to the Noyce MTL program because I will be a math teacher for life! I love what I do. I am very passionate about teachin,g and I feel that this program will help me be the best math teacher I can be.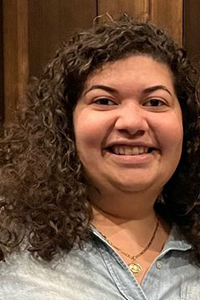 Ilisse Gomez
New Britain High School, New Britain, Connecticut
My name is Ilisse Gomez, and I work at New Britain High School in New Britain, Connecticut. I'm originally from New York and have been assimilating to the Connecticut lifestyle for the past 10 years. In my spare time, I enjoy practicing my audition tape for "The Voice" in the mirror and imagining who would turn around and put me on their team!

In my eight years, I have most enjoyed when students first enter the classroom expressing their disdain for math and watching them begin to enjoy class and participate in my lessons. I hope to gain new ways to engage students in math and to be able to bring what I learn to my district to help other teachers increase engagement in their classrooms.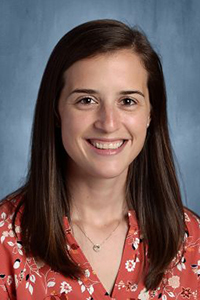 Kate Grayeb
University High School of Science & Engineering, Hartford, Connecticut
I am in my 10th year of teaching at University High School in Hartford, Connecticut, where I am the department chair, math team coach, and GSA advisor. I love the challenge of inspiring my students to have fun with higher-level math. When not teaching math, I enjoy staying active with my two energetic toddler boys as well as jamming out on the acoustic guitar.
I love teaching math for Hartford Public Schools (HPS) because every day, week, and year is a brand-new adventure. I am committed to making each and every one of my students' relationship with math a positive and worthwhile one. I have a great appreciation for University High School because we are a magnet school with a highly diverse community and an incredibly dedicated teaching family.
I was drawn to the Connecticut Noyce MTL Program because I want to serve the diverse population of my school community to my highest ability. It is within this program I hope to continue to develop and advance more equitable teaching practices within math education, making a lasting impact on the students of HPS and other Alliance Districts. I am also thrilled to have the opportunity to grow as a teacher leader and mentor who can share such practices with new teachers, student teachers, and colleagues.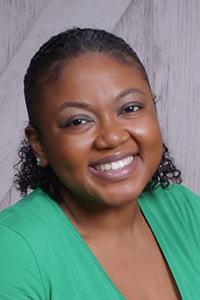 Kwastina Jackson
Beman Middle School, Middletown, Connecticut
I was born in Middletown, CT and raised in Alabama. My first 10 years of teaching were spent in Alabama. My last three years have been in the state of Connecticut. I enjoy working at Beman Middle School in Middletown because of the diversity of the population. Math is a universal language that weaves our unique lives and experiences together. It is extremely rewarding to learn while working. I am a TEAM mentor and Diversity, Equity, and Inclusion Coach in my district.
I was attracted to the Noyce Teacher Leader program because I am passionate about equity in school based interactions and instruction. I am excited about partnering and learning more to create an education system that is accessible for all.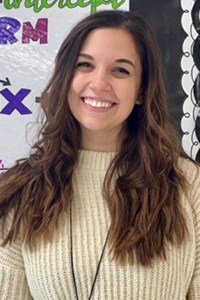 Jessica Jané
Putnam High School, Putnam, Connecticut
Seven years ago, my heart landed in Killingly Intermediate School; six of those years, I taught seventh grade. This year I decided it was time for a change and moved to Putnam High School. When not teaching you can find me in Maine, searching for sand dollars, or crafting with my Cricut.
I love the creativity with teaching math, the constant need for new and different ways to introduce and enforce a topic. Each student sees math in a unique way, and it's my job to see math through their lenses. Every day I am teaching math to my students, I am also learning math from my students. The excitement my students show when they understand a difficult concept or can share an experience that involves math is rewarding.
I am eager to continue learning to provide high-quality mathematics practices to all my students. Being able to work with other teachers in Alliance Districts starts a conversation about what is working for them and what could work for the teachers at my school. By growing my professional learning community, I feel I can best support my students, colleagues, and find solutions to those struggling. Most importantly, I want to provide all students a safe learning environment that provides a variety of equitable learning opportunities that will encourage students to grow academically in all math classes.
Jacqi Jones
Dolan Middle School, Stamford, Connecticut
This is my seventh year at Dolan, and my 15th year teaching. I teach eighth-grade math and algebra 1. Teaching is what I was meant to do, and I like watching my students figure things out. I enjoy reading (when I have the time) and playing board games with my kids.
On a district and school level, I have always had the opportunity to be involved and to have a voice. I participated in the district's math curriculum work, and on my school's leadership and data teams.
The biggest thing [that drew me to this program] was the focus on equity in math education. I have seen the disparity in certain areas and am eager to be a part of the change. I want to be equip with skills to support my district, school, and students, especially in this field of math where so many students struggle.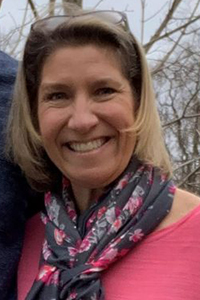 Kara Frascarelli Jones
Bristol Eastern High School, Bristol, Connecticut
I am in my 27th year of teaching mathematics, currently at Bristol Eastern High School in Bristol, Connecticut, where I am also an advisor for Lancer Nation mentors and department chair. In my spare time, I like to watch baseball, read, and spend time with my husband and two children. I am a lifelong learner who's passionate about improving education and meeting the needs of all of my students.
I love teaching in Bristol because of the diversity of students and families. Each brings a unique life experience and story to class with them every day. It is a privilege to help them find their passion and love of learning that will follow them for a lifetime. I really enjoy working with my colleagues who care about our students as people both in and out of the classroom.

I was excited to learn more about how to make math more equitable for my students. They can do anything they set their mind to do, and I want to be able to help them reach their full potential.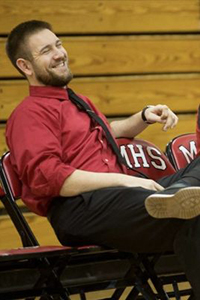 Shawn McClory
Manchester High School, Manchester, Connecticut
I am in my seventh year teaching and still have a very difficult time saying 'no' to being involved in my school community. I am currently the assistant Boys Golf Coach, JV Boys Basketball coach, building rep for our union, club advisor, and participate on a couple committees. My favorite part of teaching is building relationships through humor and common interests.
My favorite part of teaching math in an Alliance District is interacting with students from many different backgrounds and experiences.
I was interested in the Noyce MTL program because I do not think there are effective systems set up to create an equitable education for all students in Connecticut (or the country). This seemed like an opportunity to try and impact positive change on a large scaler, and I wanted to seize that opportunity.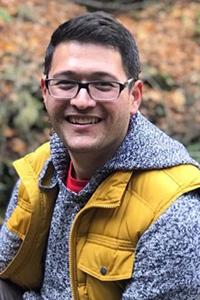 William McKinney
Engineering & Science University Magnet School (ESUMS), New Haven, Connecticut
I am in my 13th year of teaching mathematics in New Haven. I serve as the department chair and master scheduler at ESUMS. I love to share my passion of the outdoors with my students by organizing Outdoors Club ski trips, hiking trips, camping trips, and climbing trips.
I love teaching in New Haven because the kids are just so excited to learn. ESUMS, in particular, is a great place to work because the math department is so energetic. Everyone genuinely wants to grow as a teacher and embodies the notion of being a lifelong learner. Our peer observation protocol encourages us to learn from one another and grow as a team.
I'm most excited to get to work with amazing colleagues from across the state and to share ideas. I think this program has the potential to influence impactful change in mathematics in Connecticut. What could be more exciting than that?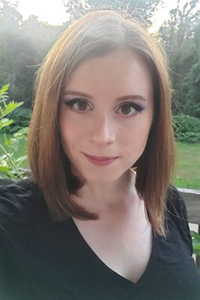 Kelsey Onofrio
Joseph Melillo Middle School, East Haven, Connecticut
I am in my fifth year of teaching middle school mathematics, currently at Joseph Melillo Middle School in East Haven. I enjoy incorporating real-world STEM projects connected to the lessons and teaching my students to be innovative and reflective. In my spare time, I am currectly working on composing and recording an album.
I love how eager my students are to experience something new in the math classroom. I like to push the boundaries of what a middle school math class looks like and working in my school has allowed me to explore many different options. My students are surprised and excited to be apart of these new math experiences that go beyond their textbook and bring real-life situations and problems into the content they navigate through.
During my master's program I took a required leadership class. Though at first I didn't see myself as a leader outside of my classroom, that course opened my eyes to some of the possibilities available to me and revealed that I had more to offer than I realized. When I was nominated for the Connecticut Noyce MTL program, I was honored but it wasn't until I completed the application that I started to see my potential. Having to reflect about my leadership work both past and present, I realized I am motivated to teach and improve the lives of others on a wider scope than just within my classroom. For a few years now I've seen a need for more real-world STEM applications to the math curriculum we teach in middle school in order to prepare our students to be innovators of the 21st century. At first I put it upon myself to make changes in my own class, but being apart of the Connecticut Noyce MTL program, I hope to make that difference in my school, my district, or even statewide.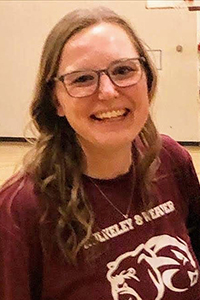 Jacqueline Rankin
Bulkeley High School, Hartford, Connecticut
I am in my sixth year teaching within Hartford Public Schools, and my fifth year at Bulkeley High School. I have also been the Girls Varsity Soccer and Girls Varsity Basketball coach throughout my time at Bulkeley and have successfully calculated the equation of the parabolic curve for my player's 3-point shots and goal kicks. In my spare time, I enjoy strength training and running, and watching movies.   
Teaching math in Hartford is rewarding. I love being able to help students gain confidence in a subject that they never thought they could. By bringing fun and joy into the math classroom every day I see students learning and pushing themselves to get better, and that encourages me to learn more and become a better math teacher!
Throughout my years teaching, I have learned that the best teachers are those who continuously trying to get better at their craft.  I was drawn to the MTL program because it gave me an opportunity to do just that; to build my skills and to then help those around me as well. I'm looking forward to working with an outstanding group of teachers all trying to do the same thing; to collaborate and learn from each other.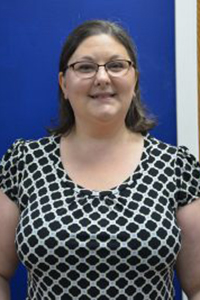 Maureen Ringrose
Rockville High School, Vernon, Connecticut
I have been a Math teacher for twelve years. I began my teaching career at Meriden's Platt High School and after six years moved across the river to Vernon to teach at Rockville High School. What I love most about where I teach is the diversity of the student body and community. I love that my district allows its teachers to make decisions on changes to curriculum to better suit the needs of our students. What I love most about my job is the connection to students, knowing where they excel and struggle, and watching their excitement when they overcome obstacles and learn new strategies.
Several years ago my family and I moved to Vernon so not only do I teach here but I am also a resident. My adult son is continuing his education at Manchester Community College and my amazing daughter Penny is a sophomore at our school. I feel fortunate that I am able to be in the same building as her and watch her grow alongside my students.
I am excited to be a part of the MTL Program and look forward to learning more leadership skills for my school.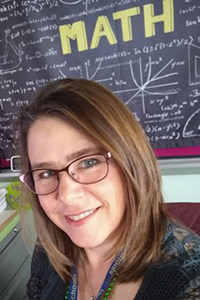 Jennifer Roggi
Vernon Center Middle School, Vernon, Connecticut
I have been teaching mathematics for 10 years at Vernon Center Middle School. I am a lifelong learner and love bringing mathematics to life for my students. I participate as the MathCounts coach and have served on several committees including: the Social Emotional Learning Committee, Positive Behavioral Interventions and Supports (PBIS) Committee, and the Family Engagement Committee.
When I am not teaching mathematics, I love spending time backpacking and camping. I love to sing and enjoy traveling with my family.
One of the things I love about teaching in Vernon is the opportunity to work with a diverse group of students that challenge me to think about mathematics in a different way each and every year. Through the Connecticut MTL Program, I hope to learn from fellow professionals about new ways to make the wonder of mathematics come alive for all of my students. I look forward to learning from, and passing on, new strategies and techniques that will make all students successful in understanding the world around them through the language of mathematics.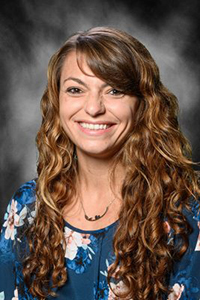 Courtney Sobanski
Tourtellotte Memorial High School, Thompson, Connecticut
I am in my seventh year of mathematics teaching at Tourtellotte Memorial High School in Thompson, Connecticut, where I have been since the start of my teaching career. In my time at Tourtellotte, I have moved up to Head Coach of the Cross country, Indoor and Outdoor track team, as well as a co-advisor for the National Honor Society. When I am not teaching or coaching, I enjoy training for marathons, listening to audiobooks, building puzzles, and cooking (and eating) new foods and desserts.
I love that at our small school I'm able to teach math and build relationships with students at a much deeper level than most other places.  I'm able to bring a lot of creativity to my lessons through projects that relate to real life because we have small class sizes and supportive administrators that have wanted us to teach applications in addition to content.
I was a Noyce scholar recipient at Hofstra University at my undergraduate, and learned many valuable teaching skills and additional workshops/seminars I otherwise would not have gotten in my teacher education. I am hoping to be on the other side of the program now, to give back in a way that mimics the help I received. I also hope to gain more knowledge about teaching math to students of diverse backgrounds and needs, and bring that back to my colleagues, both within math and in other disciplines.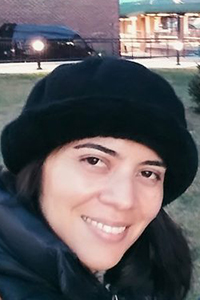 Marta Soto-Johnson
Washington Middle School, Meriden, Connecticut
I love teaching in the Meriden Schools because I was once a student in a similar position as my students. I love being able to see my students at sport or extracurricular activities in town. The staff always pulls together for our students and each other, especially in times of need.
I became interested in the Connecticut Noyce MTL program to further my education. I especially found of interest the idea of furthering equity in the state of Connecticut by cooperating with teachers from various districts.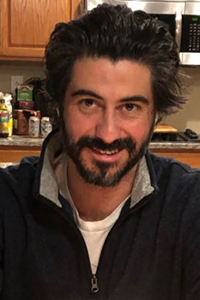 Justin Wentworth
West Haven High School, West Haven, Connecticut
After nine years of teaching at Davis Street Middle School in New Haven, I moved this year to West Haven High School. I love Math and the wonderful memories that it creates. I believe that building a strong mathematical foundation is the key to future generations' success.
I enjoy mathematics, music and the connections that they share. I believe that hockey is the coolest game on earth. In my free time I enjoy playing music and hockey.  
MTL Fellows (2022 - 2023)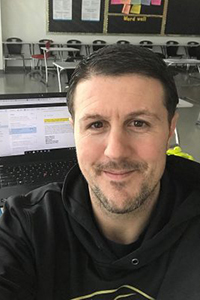 Keith Morin
Waterbury Career Academy High School, Waterbury, Connecticut
I have been teaching in the city of Waterbury for the past 14 years and the last eight of them at the Waterbury Career Academy. I am currently teaching Algebra 2, Pre-Calculus, and UConn Calculus. Beyond the four walls of the classroom, I am a TEAM mentor, NHS co-advisor, and a member of the school's Safety Committee. Additionally, I enjoy attending as many WCA sporting events as I possibly can. Outside of work, I spend most of my time with my wife, Jessica, and two daughters, Ellie and Mia.
The most enjoyable part of teaching in Waterbury is the connections I make with the students. I can relate to the students very well, as I am a product of the Waterbury Public School system.  It is an honor and a privilege to be teaching in the community that has had a profound impact on my life and made me the person I am today.
I became interested in joining the Connecticut Noyce MTL program when I learned about the opportunity to have an impact on excellence, equity, and leadership. I couldn't pass up the chance to be a part of a program that would address such important aspects of education. This is a great opportunity to improve my skills on equity and leadership to have a positive effect on teacher excellence in secondary mathematics classrooms. Additionally, I am looking forward to working with other Teacher Leaders so I can collaborate with them. I will learn from them and bring the information and skills gained from those experiences back to the district level. I strongly believe that this program will allow the opportunity for improved teaching and learning for the teachers and students of Connecticut's Alliance Districts.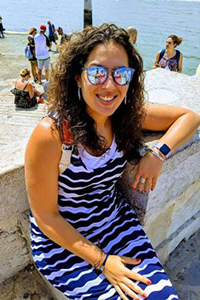 Nicole Beauchamp
East Hartford High School, East Hartford, Connecticut
I am in my 11th year teaching mathematics, with 10 years at East Hartford High School in East Hartford, Connecticut, where I am currently teaching. I also serve as the Senior Class Business Manager, TEAM Mentor, Assistant Cross Country Coach, and Origami Club Advisor. I have taught Algebra 1, Geometry, and PreCalculus.
In my spare time, I enjoy cycling, hiking, and solving jigsaw puzzles. My favorite part of teaching math in an Alliance District is building my students' confidence in their ability to learn math concepts in new and creative ways. I was drawn to the MTL program for the amazing opportunity it provides to collaborate with teachers who are also striving to best meet the needs of students in other Alliance Districts and the ability to bring that shared knowledge back to my district.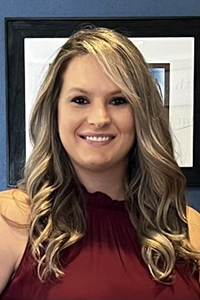 Erin Murphy
E.B. Kennelly School, Hartford, Connecticut
I am in my 10th year of exploring the wild world of middle school. I currently teach at Kennelly in the Hartford Public School District. I thoroughly enjoy finding examples of math concepts in the real world to take back to my students to show in the classroom.
When I'm not thinking about teaching, I like to go on hikes to waterfalls and collect little plant babies. I love showing students that with a bit of hard work and perseverance any student can be good at math. I'm hoping to grow as an educator to help others and can't wait to go to countless professional developments where I will strengthen my teacher leadership skills.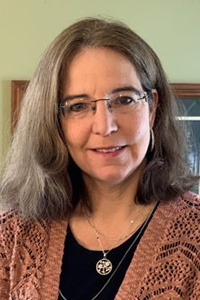 Rita Robbins
New London High School Multi-Magnet Campus, New London, Connecticut
I have been teaching for 28 years and currently work in New London High School where I teach Geometry and Math for Liberal Arts ECE.  I am also the Co-Advisor of the More Than Words Diversity Leadership Club and recently have started teaching an Algebra 1 class for English Language Learners. When I am not teaching, I enjoy spending time with my family, playing board games, watching my children play sports, kayaking or walking my 1-year-old Yorkie.
I love the diversity at New London High School, and I thoroughly enjoy getting to know my students. Additionally, I get to help each of them to grow in their confidence by learning new math concepts, taking risks to answer/ask questions, or developing leadership skills in after-school clubs.
I have always believed that my students can do more than we, educators, expect from them. This program enticed me, for not only would I learn pedagogy to make mathematics education accessible and equitable to all students, but I also would be given the tools and connections to mentor and assist my colleagues.